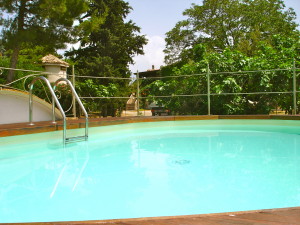 The Farmholidays "Madonna degli Angeli" is a small family-run which does not have a concierge nor some typical hotels services. Therefore we ask our guests to feel this holiday" with a different "philosophy" compared to regular ones and we will do our best to satisfy your requests and make you feel as much as possibile as in your own home. Our offering is, in fact, inspired by the principle of freedom, autonomy and privacy of our guests. It tells about our slogan "The facilities of an agritourism … with the freedom of your own home !".
However, the agritourism offers some important services, which we want to talk about on this page. It can also happen that spontaneous and felt "happening" may be waiting for the guest "round the corner" and occasionally the smell of our "arrosticini" on the grill (lamb spiedos) or the "authentic" taste of the food we produce, will welcome and surprise you to the return of your tours, never planned as in a holiday village.
- CATERING and BREAKFAST
Usually we do not serve breakfast and we have not a restaurant service having, in facts, APARTMENTS each with kitchenette and everything you need for easy self-catering (the "welcome kitchen pantry" includes coffee, sugar, olive oil, … sponges and various detergents etc., plus all the crockery and basic equipment needed). There is also the possibility of a gastronomo that can take you directly in the apartments hot meals with a typical menu at a low cost (about 10 euros for meals, drinks not included). We are also just 350 meters from the first local restaurant (about 15 euros for a full meal), 1.5 km from the nearest supermarket and 3 km from the first village with all facilities. Another restaurant really "Special" is also just 2 km and lunch menu offers buffet for only 11 euros and dinner a'la carte with prices very cheap the same, despite the excellent quality of the food and typical dishes offered, mostly from the garden of their family and from artisan pasta they produce in the restaurant.
For those who enjoy the freedom of eating at their own home, each apartment has a private garden (or terrace) with table and chairs, where pleasantly to dine by candlelight enjoying the park of 2 hectares (5 acres) surrounding the entire farmstay – mostly lighted during the night – or during the day to enjoy pleasant moments of relaxation extending the view on the majestic mountains of the National Parks that surround us.
- CLEANING and LINEN
Each apartment is delivered clean and equipped with all necessary linen (sheets pillowcases, towels: face, shower and bidet) plus some basic cleaning products (brooms, dustpans, mops, cleaning floors washing dishes bath soap etc. – no hair dryer, shower gel and shampoo). On departure we only ask the cleaning of kitchenette with crockery (but with an extra payment of 20 euros we can do it for you) and removal of rubbish. Each week clean linen is provided (additional changes are possible upon payment of a small refund).
Booking it in advance, with an extra if you wish we have an additional maid service available.
- RECREATIONAL FACILITIES
In the farmhouse we have under a patio and freely accessible a ping pong table a football table and the possibility to rent mountain bikes (these ones to be booked in advance). In addition, there are outdoor chairs and tables for pleasant moments of relaxation and for sunbathing in the park we also have sunbeds hammocks and parasols as well as the small but scenic POOL (see link https://www.madonnadegliangeli.com/swimming-pools/?lang=en).
We are also just 800 meters (+ 40 vertical meters down the hill) from the Pescara river, although the bathing waters are cold, with a certain stream and the access path is not actually confortable. We are still close (5 minutes + descent down the canyon) to the beautiful Orta river with freezing water, but in some points even with drinking water, as well as the charming Tirino river (about 15 minutes drive) where you can swim among native trouts and river shrimps
- CHILD FRIENDLY: for the younghest on the holiday-farm in addition to the second very small pool dedicated exclusively to them (see link https://www.madonnadegliangeli.com/swimming-pools/?lang=en) there are a few little games (swings, playhouse for kids and not much more ). But the biggest attraction is given by our pets (cats, goa,t donkey and a very sweet dog breed Golden Retriever), which almost always turn freely around the park that surrounds the apartments and are always looking for petting … and maybe even a bit of food.
- The PARK, GARDENS and VEGETABLE GARDEN

The holidayhouse although not placed too far from roads and from the edge of a village (3 km) has an area of 9 hectares (22 acres) of which about two (5 acres) to parkland around the 2 main buildings with native woods and trees, flowers and lawns. The gardens in front of the apartments are "grafted" in the park that surrounds as a ring the two cottages, there, in some places you can enjoy the spectacular view of the mountains of the nearby National Parks of the Majella and Gran Sasso.
Sometimes and in some particular hours also make appearances rarest animals – symbols of a nature that is regaining our farm – including Apennine black squirrels, foxes, wild boars, hedgehogs, owls, gray herons, hoopoes, badgers and hawks (generally buzzards) in addition to our farm animals (lovable pets and not for "fork and knife …") that go around almost freely within the park (see above).
Our products, cultivated or spontaneous, are at the guests' disposal within the farm and for a personal use. Despite of the climatic conditions (and of the boars), we can offer: white grapes (late August, early September), black grapes (second half of September), figs (end of August, September), walnuts and pine kernels (September and October), fruits of the forest, white mulberries and arbutus (July, August and early September), wild asparagus (end of March, April), persimmons (Autumn), apples, pears, wild medlars and jujubes (different periods), rosemary and bay (always), wild chicory, borage and other spontaneous herbs (March, April, May).
Almost every year our ortho gives us : tomatoes, zucchini, beans, peppers, onions, corn, eggplant, cucumbers and melons. With discretion and parsimony you can go to "steal" from our friend Moreno (of course not too much because, as we say in our parts, "the orchard takes the dead man …").
Inside the park we also have some important archaeological remains, protected as "National Monuments", including 2 rare prehistoric menhirs, an Italic tomb stele, Roman column drums (all coming from the archaeological bound of which our farm is the central part), as well as medieval stones and capitals of the surrounding area (see link https://www.madonnadegliangeli.com/our-roots/our-roouts-2/the-history-of-area/?lang=en).
- CAMPING
On the farm we have some places that adapt to accommodate campers / caravans and tents. Generally do not take more than one at a time and only by reservation. For all other information SEE THE LINK …
- TIPS and MATERIAL for "THE DISCOVERY" of OUR ABRUZZO
Our strong point is the passion and knowledge for this land. With pleasure we offer the result of decades of our tours in this region, having written a "handbook" for our guests, where the various thematic readings of the area (art, nature, culture, sea, food, crafts and folklore, sports, etc..) are proposed trying to "intersect" them each other and to explain their ancestral origins, focusing on the most authentic and unspoilt destinations.
In addition we have a fine library of brochures, maps and other tourist information in several languages (even envied by our Tourist Promotion office) and with pleasure we freely make available to our guests, so that everyone can quietly and without haste enjoy it during their stay, under the shade of an ancient pine tree next to our small but nice swimming pool.
We are creating also (we hope to do it for the summer 2012) some paths recorded on satellite navigation systems, these data on a free loan the same, already loaded with the coordinates within them, to make it easier and more enjoyable driving and discovery in this wonderful region, but sometimes a little too wild.
The ground floor of the central building, reserved for homeowners, is normally used as a place to welcome the guests. Once stables for animals of all kinds, today has been restored with period furnishings and mobilia typical of Abruzzo and it is very charming. This is the place where – perhaps accompanied by a small sip of walnut liqueur produced by my mother, lady Matilde – leave for a "virtual tour" of our Abruzzo and where, according to the interests of each guest, we suggest the best routes and the secrets of territory.
- PUBLIC TRANSPORTATION (for trips more distant, but special …!)
For those who do not want to miss the opportunity to visit the "Eternal City" Rome is only 1.5 hours by car or 2 hours by bus (1 km to the bus stop – 10 € is charged for a ticket – about 190 km of highway).
The train to Pescara (or the other two coastal towns with a wildest sea, see Ortona Pineto) is located just 3 km.
Good start for Naples by bus from Pescara or, along the route to Naples, from Sulmona. Approximately 2/2.5 hour ride.
From Pescara, Ortona and Vasto, or better yet from Termoli ferry or hydrofoil depart daily for various day trips to beautiful Tremiti islands, among the most beautiful beaches of Italy.
————————————————————————————————————————————————————–
- AROUND THE AGRITURISMO
In the immediate vicinity of our agritourism there are many opportunities for walking and hiking, but for this we refer you to read the specific section called "Tracks" .
Among the various possibilities listed briefly: hiking and nature trails of various types, Kayak, horse and donkey riding, mountain biking, paragliding, hang gliding, golf, skiing, thermal bath (only to healing and not open all year), as well as medieval churches, castles, monasteries and villages, wine tasting tours and a lot of tradition and folklore.