Our roots
Ricordi d'Abruzzo- le nostre radici from caterina on Vimeo.
The video was shot from Madonna degli Angeli farmstay in Tocco da Casauria (PE) -Abruzzo-Italy.
Lorenzo and Caterina dedicate this video to their father Dr. Claudio de Pompeis, medical humanist, founder of the "Museum delle Genti d'Abruzzo" and passionate studious of humanity, its history and territory, convinced that the knowledge of our past and our roots is essential to understand and appreciate our present.
All images on this video are courtesy from the Archive of the Museum of the People of Abruzzo (Museo delle Genti d'Abruzzo) in Pescara and reproduction is prohibited.
OUR ROOTS

Many of our guests are surprised to read the many writings that decorate the Moorish portico of the main house. Among all, what is more surprising is an inscription of 1968, the day of the memorable discovery of proto-historic village of "Madonna degli Angeli".
This is just one of many testimonies that inextricably bind this house and its land to its owners and their history.
Our family is linked to these places since the seventeenth century, when our ancestor Lorenzo de Pompeis decided to move in Torre de' Passeri village from Castelli, a small village…
MILLENNIA IN NATURE: the strategic area.
The farmhouse is located on an important archaeological site that goes from the early history, the period of Italics, then move on to that of ancient Rome, to these days. All thanks to the particular conditions of the strategic position due mainly to two factors: the combination of "sea and mountains" and the deep canyon that cuts through the chain of the Apennines mountains (the" Gorge of the Three Mountains").The close proximity to the mountains (with the three highest peaks of the Apennines), as well as the nearby coast, eased Protohistoric and Italics populations…
HISTORY OF THE PROPERTY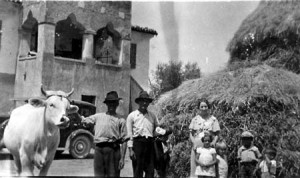 The main building of the farm, again because of its strategic location, was built with function for the change of horses (coaching inn) in the seventeenth century along the major roadway of the Tiburtina Valeria, requiring every now and then stop for travelers in places of rest and refreshments. More or less as it happens in our days with the new rural tourism destination as a refugee and "relief" from the stresses of modern life.
Later it became a farmhouse (in the 1.800 primarily as a cattle farm) and, during Fascism, it was enlarged with a silos…. -