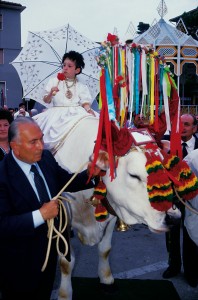 UNDER CONSTRUCTION (at the agriturismo several guides, maps and tourist information in the various major languages are available to guests staying).
Festa in onore del santo patrono, in cui si uniscono e sopravvivono insieme anche qui riti cristiani e pagani. La tradizione vuole che un imponente bue bianco, lungamente addestrato, partecipi in chiesa alla benedizione finale della cerimonia religiosa che precede la solenne processione. Il bue, esentato dal lavoro per quaranta giorni e istruito alla genuflessione, viene bardato a festa, con le corna adorne di fiori e nastri e il dorso ammantato con una gualdrappa di seta rossa su cui siede un fanciullo con ali d'argento e il capo cinto di fiori. Il bue viene portato ad inginocchiarsi sulla soglia del tempio, poi, dagli escrementi lasciati in chiesa, vengono tratti auspici. La leggenda narra che un bove, incurante di un pungolo di un contadino miscredente, si sarebbe inginocchiato al passaggio della statua del santo trasportata a Loreto.
Anche qui, come in India, il binomio tra la straordinaria forza del bue e le necessità agricole, hanno portato questo animale ad essere oggetto di venerazione, oltre che strumento di lavoro.
Periodo: domenica/lunedì di Pentecoste