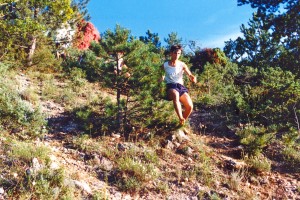 Spesso ci si stupisce della crudezza e dell'eccesso in alcuni riti e tradizioni che vedono lo scorrere del sangue, quasi sempre animale, in nazioni più o meno lontane e magari, a soli due ore di automobile da una metropoli come Roma, nascosti e protetti da alte montagne e da popoli che gelosamente preservano antiche tradizioni e credenze, riti pagani poi "cristianizzati" nel corso dei secoli ancora si perpetuano con crudezza vicino a noi.
Nata anticamente probabilmente come rito di iniziazione e di passaggio dall'età puberale a quella adulta, secondo altri come prova per mostrare ai duchi di Cantelmo, feudatari dell'area, la propria forza e coraggio come lasciacondotto per essere arruolati nelle proprie guarnigioni, oggi ha un carattere di festa "religiosa" !
I giovani del paese si buttano a capofitto, a piedi nudi, lungo il pendio roccioso della montagna fino a raggiungere la chiesa della Madonna di Loreto, procurandosi non lievi ferite sotto i piedi. Tutto questo per una sorta di espiazione religiosa, mista a una prova di coraggio nei confronti degli altri compaesani e, infine, per una ostinazione nel perpetuare le tradizioni del paese. Certamente i vincitori della corsa sono per tutto l'anno considerati uomini valorosi, vanto delle loro famiglie e a cui tutti portano estremo rispetto (in particolar modo le "fanciulle"), mai si parla di loro in effetti per le proprie virtù mistiche !
UNDER CONSTRUCTION (at the agriturismo are available to guests staying several guides, maps and tourist information in various major languages).
L'effetto e l'atmosfera che si respira nel paese è fortemente coinvolgente. "Zingari" sono detti, nell'espressione dialettale, quanti vanno a piedi nudi.
Anche i piccoli bambini maschi vengono "iniziati" con una corsa a parte e anche loro, stringendo un fazzoletto in bocca "per lenire i dolori", hanno i loro momenti di gloria …
La festa si tiene la prima domenica di Settembre.